Enter the Chronosphere
Updates coming in thick and fast at present. Probably gonna put the brakes on for a bit now (unless any major bugs pop up).
This update introduces a bunch of juicy tweens. Got UI animations as well as new player and enemy animations. Also fixed a bunch of AI bugs that became obvious when we added the enemy "alert" animation.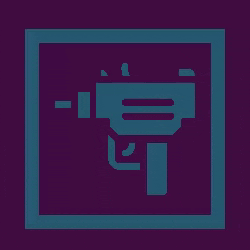 Oooooh... tweens!
Also added an aiming + shooting tutorial to smooth out the first time experience.
Feedback? Tell us to our face in our Discord. ✌
Enter the Chronosphere v8
🏃‍♀️ Animations

Enemy "wake" animation and particles
Player stairs animation
Hit shake animation
Change weapon animation
Health animation

🧠 AI fixes

Enemies correctly detect player on their first action
Fix bug in minotaur and berzerker player range detection

📚 Tutorialization

Only show "interact" cursor when feature is in range
Add simple aim and shoot tutorial
Rename stairs to "next" and "back"
Hover popups appear quicker

🎨 Fix spider wall hit particle color
💪 Make boss attack unbreakable
🪓 Player chainsaw has only one blade
Files
Enter the Chronosphere - 8 - macos.zip
41 MB
Aug 15, 2021
Enter the Chronosphere - 8 - web.zip
Play in browser
Aug 15, 2021
Enter the Chronosphere - 8 - win.zip
33 MB
Aug 15, 2021
Get Enter the Chronosphere
Comments
Log in with itch.io to leave a comment.
found this on reddit, finally got around to playing it. LOTS of fun, I love it.